One of the nice things about blogging is that it's so easy to do. My last post was done during a demonstration and presentation to a group of staff members at Two Rivers Marketing in Des Moines.
We're done now and I'm posting one more time before leaving.
Two Rivers has their own internal IT department to conduct work for their clients so I thought it interesting that they needed me to come give a presentation on blogging. But this shows how new it really is to us in the agrimarketing business. We only had 1 hour to go from a definition of "blog" to how to post and distribute information on the blog and using RSS feeds. We did get into podcasting at the end.
I brought along my Dell AXIM with a ZimmCast already loaded on it to demonstrate how easy it is to distribute your own audio programming now. Of course I wanted to show them a podcast on my new Zen Micro but the one I ordered came in defective so I'm waiting on its replacement.
I hope the session was helpful to these great folks. I know they gave up a lunch hour to hear yours truly but our internet access worked and I think it went well.
If you'd like me to give a presentation or demonstration on blogging, podcasting or using Talking News Releases just give me a call.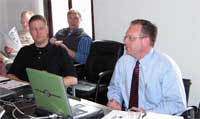 Dude has a Dell!