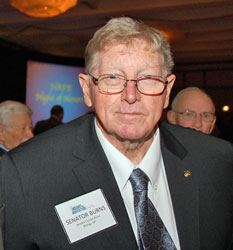 Sad to hear the news that legendary farm broadcaster and U.S. Senator Conrad Burns has passed away at the age of 81. Conrad founded the Northern Ag Network and was inducted into the National Association of Farm Broadcasting Hall of Fame in 2011.

Burns was born in Northwest Missouri, attended the University of Missouri, served in the US Marine Corps, and eventually joined the Polled Hereford World magazine in Billings, Montana. This work in the livestock business eventually led him to become a cattle auctioneer and as the first manager of the Northern International Livestock Expo. He also began reporting on agriculture news, started a radio show and worked as a farm reporter on television. In 1975, Conrad founded the Northern Ag Network and continually grew the network with additional stations and programming. He served 2 years as a Yellowstone County Commissioner before being elected to the US Senate in 1988. He served 3 terms as US Senator and was a champion for legislation effecting broadcast, agriculture and energy policy.
The Northern Ag Network expressed its deepest condolences to the entire Burns family. "It is through his vision that the Northern Ag Network got it start and has been the Powerful Voice of the West for the last 40 years."
Read the Northern Ag Net story on the late, great Conrad Burns and watch his NAFB Hall of Fame video. You can also listen to his comments from the 2011 NAFB awards banquet.