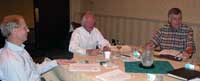 These guys were in charge at last night's Region II NAMA Leadership Workshop. One of the key themes that we heard over and over (KEN) was not to become "stagnant" (KEN). You know what I mean Ken? Ask Ken Dean (not pictured) sometime about becoming "stagnant."

Anyway, if you want to know more about a leadership workshop I interviewed Don Schultz, Clear Channel Ag Networks and Regional Director for NAMA (he's the guy with the surprised look on his face on the right in the picture) about our workshop. Don talks about programs, membership and some of the interesting questions that came up in our discussion.
You can listen to my interview with Don here

The interview is about 21 minutes (10MB).