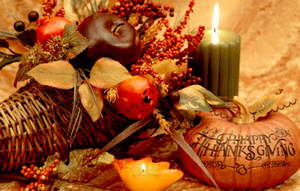 I really liked this e-greeting from my alma mater, University of Florida College of Journalism and Communications. Happy, Happy, Happy Thanksgiving to all of you.
Here's the message that came with the picture from Dean Diane McFarlin:

Dear Alumni and Friends,
Thanksgiving is the perfect time to reflect on the past year, my first as dean. I want to express my heartfelt gratitude for the welcome you have given me, and for all you do for our College.
It is abundantly clear that our alumni are among our greatest assets. I have had the pleasure of meeting some of you in person, I have shared emails and notes with others, and many of you have visited Weimer Hall. To the person, you have been enthusiastically supportive of our mission, and have contributed to our success in many meaningful ways.
So, at this time of year when we give thanks for so many things, I am giving thanks for you and all you have done to help build and nurture our nationally ranked programs. Together, we are ensuring that our current and future students will enjoy the same successes and quality of life as the generations of students who have come before them.
In Gator gratitude,
Diane