While ZimmComm New Media is celebrating ten years we're doing some reminiscing about some of the milestones in our journey.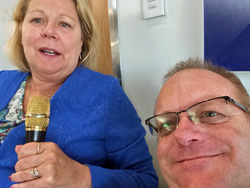 Speaking of miles, Cindy and I met up in a Delta Sky Club in Atlanta last night to record this week's program. She was returning from the Bayer CropScience Bee Care Center opening and I was returning from a visit with New Holland. And, no, we did not plan our trips to be on the same flight back home to Pensacola. Funny how that works out.
We got out the Golden ZimmComm Microphone and got to work taking a look back at our ten years of developing an online community with a little help from our friends.

This blog we call AgWired got started in our first year when I did my first post in August of 2004. I was a little tentative then and became bolder as time went on. AgWired started out on Blogger before moving to WordPress and we've never looked back.

It was some time later that I did my first tweet. Fortunately, it's not to embarrassing. But here it is. Did you know you can see your first tweet using Twitter Discover? I'm now 17,000 tweets down that highway!
We hope you will enjoy our look back. During the Connection Point last week we had a nephew working in our booth. He said that after listening to us talk to people about what we do for two days he had no idea what we do. Maybe this conversation will help clarify?
You can listen to this week's program here. Ten Years of ZimmComm
Thanks to our ZimmCast sponsor, GROWMARK, locally owned, globally strong, for their support.

Subscribe to the ZimmCast podcast here.