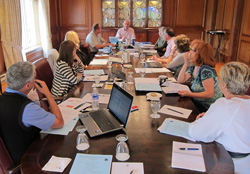 The executive committee of the National Agri-Marketing Association held its quarterly meeting this afternoon in advance of the full board meeting tomorrow. We're continuing to work on the strategic plan to grow and expand NAMA.
The board meeting will precede the start of the annual NAMA Fall Conference which is taking place here in Clayton, MO. We've got a full program of sessions that will challenge your thinking and help build leaders in the industry. I'll have more to come during the next several days.
Follow along on Twitter using the hashtag, #NAMAFall13.