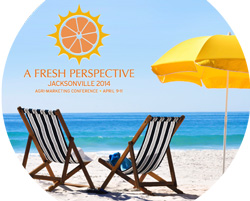 Tired of winter? Tired of snow? How about a Fresh Perspective in the Florida Sunshine? That's what you'll get if you come on down to my home state in April.
The 2014 Agri-Marketing Conference is shaping up to be huge! In fact, our hotel room block is FULL. The NAMA staff is negotiating for some overflow already and we're hoping that some more rooms will become open for the block.
You might want to plan your visit to come early. There is a farm tour put together by the Florida Chapter that's filling up fast on Tuesday as well as the annual NAMA golf tournament. The hotel is only about a 15 minute drive from the beach too! If you can't make it we hope someone from your company will be able to.
The program will offer you a lot for your investment and I think we have a larger number of exhibitors in the Connection Point trade show.
ZimmComm will be celebrating 10 Golden Years at the conference. Please plan to visit us in the Connection Point. More on that later.