Larry Mitchell, USDA Grain Inspection, Packers and Stockyards Act (GIPSA)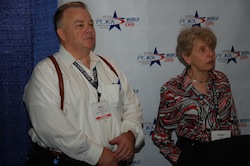 administer, along with Deputy Administrator Susan Keith, spent the day at the 25th anniversary of the World Pork Expo. While attending the event, the two took some time for an answer and question session to give the pork industry and update on close term challenges and opportunities.
The biggest challenge not only for pork producers but agriculture in general, said Mitchell, is the passage of a farm bill. The Senate version (and House version) of Agriculture Reform, Food and Jobs Act of 2013 has hundreds of amendments that if passed, or not, could affect agriculture. As of this writing, the Senate voted for cloture and will be voting on the bill on Monday.
In addition to the need for a long-term farm bill, Keith said another key issue is price concerns for independent food producers in the U.S. This, she said, on the swine side is one of their biggest concerns because with a very thin market it's really hard to assure there is a legitimate price discovery and ensuring that the prices that become part of a contract are fair and determined in a manner that is justified.
GIPSA Update: Farm Bill, Price Concerns Key Issues
Visit the 2013 World Pork Expo photo album.