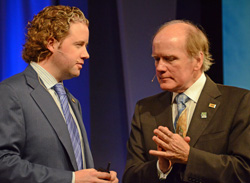 A pair of Dr. Lyons bid us goodbye from the 2013 Alltech International Symposium. Here are son/father, Dr. Mark Lyons and Dr. Pearse Lyons.
Dr. Mark Lyons, vice president of corporate affairs at Alltech, talked to us about the importance of food safety as he shared the company's vision for helping expand agricultural production in China. According to Lyons, food security is seen as "the potential Achilles' heel of China" and is too big of an issue to ignore publicly.

China's five-year plan focuses on making farms larger, more efficient and more traceable. For example, half of the world's pigs live in China and from those 50 million sows, 20 pigs per sow are born alive per year. This equals an annual production of one billion pigs per year. However, due to preweaning mortality, only 600 million actually go to market. The 400 million lost is three times the size of U.S. pig production. In China, one more pig per sow per year would mean one million tons of feed saved.

"What is Alltech's five-year plan? We want to be a foreign brand with a Chinese heart," Lyons said. "We want to firmly establish market leadership, partner with the government and leading feed, production and food companies, and give our customers a competitive advantage.
Listen to Mark talk about his vision of 2020 here: Dr. Mark Lyons Vision
Founder and president of Alltech, Dr. Pearse Lyons in his wrap-up challenged the delegates to help the farmer of tomorrow and to use the resources provided to them at this year's event.
"Are you going to fly or are you going to soar? Will you flourish?" Dr. Lyons asked. "You need to leave here today and say, 'I may not rule the world, but I can have an impact on feeding the world's growing population.'"
Listen to Pearse wrap-up the Symposium here: Dr. Pearse Lyons Wrap-up