New on Agri-Pulse this week: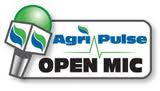 As House and Senate leaders head into a farm bill conference meeting, Sen. Amy Klobuchar provides keen insight on the negotiations. She says the challenge is to merge the reductions in spending, contained in the House of Representatives Farm Bill, with the more moderate reductions in the Senate bill and to mediate those provisions in the final bill. She discusses the prospect of rolling the entire farm bill into a larger budget bill and how large a reduction there can be in nutrition spending without risking a presidential veto. Finally, she discusses a provision of the WRDA bill that would permanently close the Upper St. Anthony Lock on the Mississippi River to block Asian Carp from penetrating northern Minnesota rivers and lakes.
Listen to the Agri-Pulse Open Mic interview with Ambassador Kenneth Quinn here.