We're back in the swing of things at ZimmComm World Headquarters. Actually, make that in post-Agri-Marketing Conference recovery mode. Cindy and I have a number of interviews to share with you this week from the conference and I'll get started in this week's program.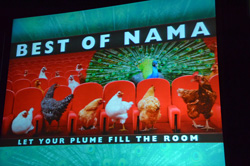 I sat down with Lynn Henderson, AgriMarketing Magazine, toward the end of the conference and talked about changes we've seen in agricultural marketing agencies. You'll hear some names you may remember and some you may not depending on how long you've been involved the industry. This conversation is part of an on-going series that we plan to do periodically on different subjects. Do you have a topic you'd like to see us cover? If so, please let us know or post in comments.
Besides looking at some of the trends in agricultural marketing agencies over the years we also review some of the winners of the Best of NAMA who let their "plume fill the room" last week. We also go over the list of student marketing competition winners.
Listen in on my conversation with Lynn in this week's ZimmCast: Changes in Marketing Agencies
Don't forget to check out our 2013 Agri-Marketing Conference Photo Album.
Thanks to our ZimmCast sponsors, GROWMARK, locally owned, globally strong and Monsanto, Roundup Ready Plus, for their support.
The ZimmCast is the official weekly podcast of AgWired. Subscribe so you can listen when and where you want. Just go to our Subscribe page.