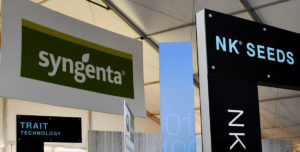 A focus on yield, consistency, and leveraging technology is bringing the NK corn portfolio into 2021, according to Joe Bollman, NK Corn Product Manager for Syngenta.
"We have depth in our portfolio," said Bollman, who participated in the National Association of Farm Broadcasting virtual Trade Talk event. "What that goes to show is that we've been doing a good job with advancing and bringing products to the market that have consistency and strong agronomics that deliver farmers the choices that they want, that deliver the ROI that they need."
Bollman said growers should look for products that fit both the soil type and management strategies of their operations, including products like Agrisure® Duracade and Agrisure® Viptera.
"We have great breeding advancements that bring strong performing genetics that can handle these weather stresses, but if you're not getting that protection from the traits, as well, you're giving up yield potential that you have out there," he said.
NK plans to offer 11 new corn hybrids in 2021.
2020 NAFB Interview with Joe Bollman, NK Corn Product Manager
4:51