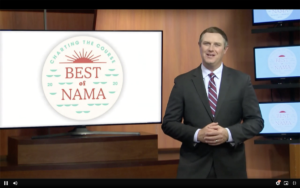 The 2020 Virtual Agri-Marketing Conference started out right on time yesterday. The staff and volunteer leaders of NAMA have put in a lot of work and it shows as we see the program unfolding virtually.
The experience started out with a live stream of the Best of NAMA Awards. The winners list is available online here.
We have a virtual newsroom started for the conference on AgNewsWire. You can find photos/images and interviews. We'll be adding more when we can.
Here's an example of one of the interviews available with Susan Rhode, Farm Journal: Interview with Susan Rhode, Farm Journal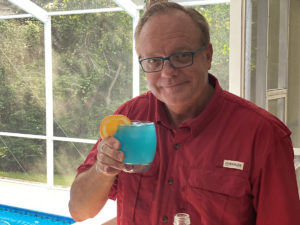 The awards were preceded by a "reception" sponsored by Farm Progress which included a mixologist who taught us how to make the official NAMA cocktail, the NAMA Navigator, along with one called the Captain. I opened the Florida Gator Bar to learn how to make these. Cindy took my picture and shared my drink. Cheers.
I encourage you to register if you haven't and visit the virtual Connection Point trade show. ZimmComm has a booth and a special offer for distributing your news releases. If you can't stop by just contact me about the special we're offering.