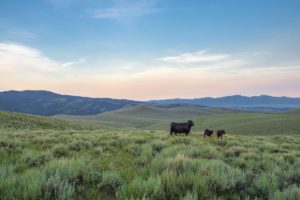 James Hubbard, USDA Undersecretary for Natural Resources and Environment, attended the National Cattlemen's Beef Association (NCBA) summer meeting this week to provide an update on Forest Service management of grasslands.
The Forest Service manages 3.8 million acres of National Grasslands across 12 Western States. They are managed sustainably with the help of some 6200 permitted ranching families, who pride themselves as conservationists, ensuring that these lands will remain productive for generations to come.
"The Secretary's expectation is that we provide the best customer service," said Hubbard in an interview from the meeting. "So that means listening to our permittees and how we might address their concerns."
Hubbard says the Memorandum signed in June directs the Forest Service to increase the productivity of forests and grasslands, including a focus on grazing as an important management tool.
Listen to an interview with Hubbard here:
Interview with Jim Hubbard, USDA Undersecretary (9:13)