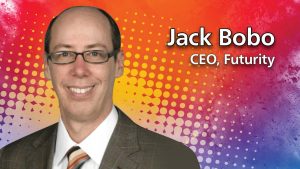 "Farming, Food and the Shifting Horizon" will be the focus of the Alltech ONE Virtual Experience on Thursday as futurist Jack Bobo shares his insights on the challenges and opportunities awaiting us in the next era of agriculture.
Bobo is the CEO of Futurity, a food foresight company that works with food and agriculture businesses to better understand emerging food trends and consumer attitudes so they can position themselves to thrive in an ever more complex world. He makes it his business to stay ahead of the trends and detect the disruptors that trigger them.
In this interview, Bobo provides a preview of his virtual presentation on Thursday, May 21 on 9:00 AM Eastern time, which will also be available on-demand for ONE virtual attendees. The greatest thing about this virtual experience is that you can still register and not miss any of it!
Interview with keynote speaker Jack Bobo, CEO of Futurity
Alltech ONE Virtual interview with Jack Bobo, CEO of Futurity (9:48)