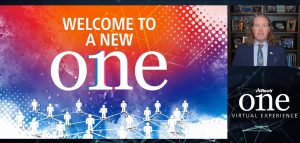 The Alltech ONE Virtual Experience is underway and over 20,000 people from more than 100 countries are participating in this new and re-imagined way of conferencing and connecting.
Alltech President and CEO Dr. Mark Lyons welcomed participants this morning to the experience that was necessitated by the COVID-19 pandemic but that he says they have wanted to do for a long time. "We know that in every uncertainty there is a new potential future," said Lyons. "This is truly groundbreaking, removing any barriers in connecting globally."
Dr. Lyons says the experience is not just a day or a week, but all year long. "Be with us for the next 12 months, until ONE takes place again in May 2021. Every month, we're going to provide this level of content on specific topics."
The greatest thing about this virtual experience is that you can still register and not miss any of it!
Listen to Dr. Mark Lyons welcome participants to the Alltech ONE Virtual Experience and explain how it was developed and the company's vision for the event.
Alltech ONE Virtual welcome from Dr. Mark Lyons (18:03)

Keep up with the Alltech ONE Virtual Experience on AgNewsWire where we are posting interviews and audio. And check out the side bar of photos for a flashback of previous ONE conferences.