Congratulations to Joseph Opoku Gakpo of Ghana who is the recipient of the second IFAJ–Alltech International Award for Leadership in Agricultural Journalism. The award was presented virtually today during the Alltech ONE Virtual Experience by Alltech CEO Mark Lyons and IFAJ president Owen Roberts.
Opoku Gakpo, a radio, TV and online journalist, was selected from nominations submitted by IFAJ guilds around the world. He is a Cornell University fellow, winner of the International Federation of Agricultural Journalists' Star Prize, winner of the MTN Heroes of Change Award and three-time winner of the Ghana Journalists Association Award in agriculture, sustainable development goals and poverty reduction reporting.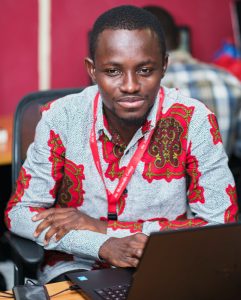 With more than a decade of experience working as an environmental, agriculture and rural development journalist, Opoku Gakpo has produced documentaries and other content for radio, television and online platforms. He specializes in science communication and development communication and has produced audio-visual documentaries on various subjects for media broadcast, conducted more than 5,000 radio and television interviews and published approximately 1,000 articles online and in print media.
The IFAJ-Alltech International Award for Leadership in Agricultural Journalism was established in 2019 to honor Alltech's late founder, Dr. Pearse Lyons, who was a passionate storyteller with a great respect for agricultural journalists. The award complements the young leader program that Alltech co-founded with IFAJ in 2005, which supports mentorship and education.
Listen to the award presentation here with Mark Lyons in Kentucky, Owen Roberts in Ontario, and Opoku Gakpo from Ghana. Below is also an interview with Joseph, and we have as well a link to a video to help you get to know this outstanding young journalist.
Alltech ONE Virtual IFAJ award presentation
(13:56)
Interview with Ghana journalist Joseph Opoku Gakpo, IFAJ–Alltech award winner
Alltech ONE Virtual interview with Joseph Opoku Gakpo, Ghana (11:53)