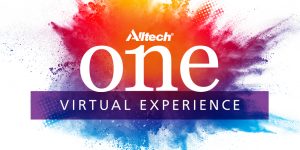 Alltech has always been ahead of the curve as an animal health company and they are leading the way when it comes to response to COVID-19. The global company was the first to make changes in a conference by announcing on March 9 that its annual ONE: The Alltech Ideas Conference (ONE) would go on as a virtual event.
The annual event was scheduled for May 17–19 in Lexington, Kentucky, and typically assembles more than 3,500 attendees from 70 countries. The Alltech ONE Virtual Experience will begin on May 18 with livestreamed keynote presentations and on-demand video content from some of the world's leading industry experts will launch on the event website.
"Our first priority remains the health and safety of attendees, our colleagues and the communities in which we live and work," said Dr. Mark Lyons, president and CEO of Alltech. "With that in mind, we decided to host this year's international conference on a virtual platform, allowing registrants from around the world to engage in industry-leading content in a way that is accessible for everyone."
Alltech has also created a special discussion series, Forging the Future of the Farm & Food Chain.
Learn more about both in this interview with Dr. Lyons.
Interview with Alltech CEO Dr. Mark Lyons
(16:30)