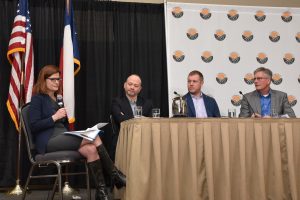 A panel at the 2020 Commodity Classic in San Antonio discussed the role played by all types of protein when it comes to global nutrition efforts.
"We know that worldwide we are going to have an extreme need for protein by the year 2050," said Polly Ruhland, United Soybean Board (USB) CEO. "We know that protein is one of the best and most nutritious foods that anyone can choose."
Joining Ruhland were USB Directors Todd Hanten and Andy Fabin, as well as Greg Tyler with the USA Poultry and Egg Export Council (USAPEEC). The United Soybean Board announced its "Protein First" initiative at the World Food Prize event in Des Moines last year to encourage industry collaboration across all protein types — plant- or animal-based — to strengthen agriculture and to nourish a growing population.
United Soybean Board CEO Polly Ruhland, USB Directors Todd Hanten and Andy Fabin, and Greg Tyler, USAPEEC
USB press conference 34:42