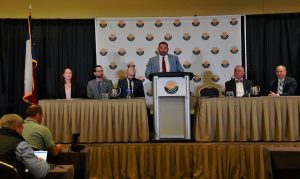 The National Corn Growers Association and Environmental Defense Fund have joined forces to launch the Success in Stewardship Network to celebrate and accelerate the use of agricultural conservation practices on U.S. corn farms.
The network will showcase success stories from the many farmers and state-level programs putting stewardship into practice, starting with the Minnesota Corn Innovation Grant Program and the Illinois Corn Precision Conservation Management Program, recognized for their farmer-supported efforts to deliver clean water, healthy soils and farm profitability.
NCGA president Kevin Ross, Environmental Defense Fund Director Callie Eideberg; Adam Birr, MN Corn Growers Executive Director; Travis Deppe, director of Precision Conservation Management participated in a press conference Thursday at Commodity Classic to launch the program.
NCGA press conference
23:40