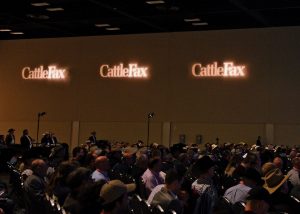 Most segments of the beef industry should be profitable in 2020, according to CattleFax.
"We've got plenty of supply to deal with, not only in beef, but also in pork and poultry supplies will be larger," said Kevin Good, CattleFax Vice President of Industry Relations and Analysis. "Thankfully, demand is very strong domestically. We see that in beef in particular."
Good said the industry is also seeing better exports developing for all three proteins, and the balance of trade has been very beneficial. He suggests prices will average higher this year. Good presented at the 2020 Cattle Industry Convention and National Cattlemen's Beef Association Trade Show.
CattleFax Vice President of Industry Relations and Analysis Kevin Good
CIC2020 Interview with Kevin Good, CattleFax 2:45
CIC2020 CattleFax Outlook
1:35:00
2020 Cattle Industry Convention and NCBA Trade Show Photo Album