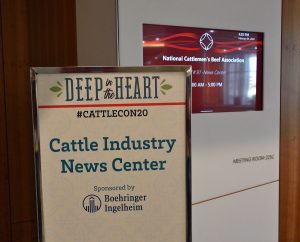 Top policy priorities for the National Cattlemen's Beef Association (NCBA) in 2020 are focused on implementing and protecting regulatory and trade gains made in 2019, while further advancing progress into new territory.
This year's priorities include an emphasis on climate policy and policy such as the proposed Green New Deal. NCBA plans to "Continue to push back against misguided climate policies while advancing the U.S. cattle industry's tremendous environmental record, upholding the U.S. cattle industry as the global model for sustainable beef production."
NCBA environmental counsel Scott Yager says they also adopted a policy regarding Proposition 12 in California which regulates the size of pens for breeding pigs and veal calves. "It's concerning on a national level because it effectively regulates other states outside of California," said Yager. The NCBA Executive Committee approved the filing of an amicus brief to support a lawsuit by American Farm Bureau and National Pork Producers.
CIC2020 Interview with Scott Yeager, NCBA Environmental Counsel 8:40
In the year ahead, NCBA also plans to prioritize the importance of cattle markets — specifically promoting "policy that creates markets free from unfair practices and manipulation both in the fundamental markets and the cattle futures markets." NCBA Associate Director of Legislative Affairs and Market Regulatory Policy Darryl Blakey discusses that and some other regulatory issues.
CIC2020 Interview with Darryl Blakely, NCBA Legislative Affairs
5:57
2020 Cattle Industry Convention and NCBA Trade Show Virtual Newsroom