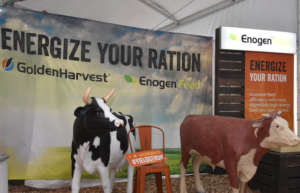 New research presented by Penn State University is proving the case for Enogen® Feed, showing up to a 4 percent increase in ECM feed efficiency and no negative effect on rumen fermentation.
The unique Syngenta hybrids, available from NK Seeds retailers, feature an in-seed technology that converts starch to usable sugars more quickly than other corn.
The research, results of which were presented at the 2019 American Dairy Science Association (ADSA) Northeast Branch meeting in November, was conducted by Sergio Welchez, graduate research assistant, and Dr. Alex Hristov of Penn State University's Department of Animal Science. In their replicated experiment, they compared Enogen Feed corn silage to non-Enogen corn silage. The only difference in feed was the type of corn silage used, so the results indicate the effect of the in-seed alpha amylase technology of Enogen Feed corn.
For more information, contact a local NK retailer or visit www.EnogenFeed.com.
Learn more in this interview from the 2019 Farm Progress Show with Duane Martin: Interview with Duane Martin, Enogen