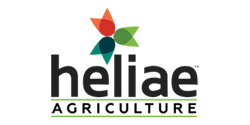 Heliae® Agriculture is introducing retailers and growers to new options for building soil health and increasing yields via native soil microbes to start the process toward regenerative agriculture.
Regenerative agriculture is an approach to farming which focuses on improving soil health. Typical regenerative methods require truckloads of organic matter per acre and planting cover crops. Most recently, the introduction of foreign microbes to fields has been promoted as a tool to capture carbon.
The approach of Heliae® Agriculture products is different. The innovative microalgae-derived technology found in PhycoTerra® dramatically increases the growth of native soil microbes – making it a perfect fit for regenerative agriculture. The explosion of soil microbe growth generates positive results for crops and the soil, so farmers can get paid benefits as they improve soil health.
"Our company works with retailers to provide solutions farmers can implement on their fields without major changes to operations. There are no contracts required for use. Everyone has the ability to do what's right for each operation," says N.R. (Norm) Davy, Chief Revenue Officer of Heliae.
Heliae® Agriculture is showcasing the soil microbe food PhycoTerra® at the Agricultural Retailers Association (ARA) Conference and Expo December 3-5 in New Orleans, Louisiana. The company will also provide an introduction for a presentation by Wayne Honeycutt of the Soil Health Institute on Wednesday, December 4.
The Agricultural Retailers Association Conference and Expo is the premier event for agricultural retailers, distributors and suppliers. Learn more about Heliae® Agriculture and the PhycoTerra® soil microbe food at booth #106.