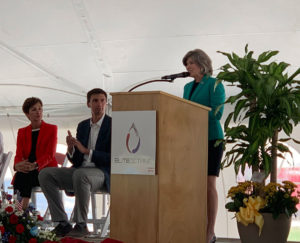 Hundreds on hand for the grand opening of the Elite Octane ethanol plant in Atlantic, Iowa on Friday got an extra celebratory boost with the announcement that E15 can now be sold year round. Guest speakers including Senator Joni Ernst (R-IA) and Iowa Governor Kim Reynolds welcomed the news just hours after it was announced.
"Increased demand for E85 and E15 means that we can support more new ethanol plants like Elite Octane," said Sen. Ernst. "We are officially ready, folks, to start our summer driving season with E15!"
Sen. Joni Ernst remarks at Elite Octane grand opening
EPA Assistant Administrator Bill Wehrum provided details to reporters Friday morning of the Environmental Protection Agency's (EPA) final rule related to retail sales of 15% ethanol blended fuel and renewable identification number (RIN) transparency.
EPA finalized regulatory changes to allow gasoline blended with up to 15 percent ethanol (E15) to take advantage of the 1-psi Reid Vapor Pressure (RVP) waiver that currently applies to E10 during the summer months. EPA is also finalizing regulatory changes to modify certain elements of the renewable identification number (RIN) compliance system under the Renewable Fuel Standard (RFS) program, in order to bring greater transparency to the market and deter price manipulation.
EPA Assistant Administrator Bill Wehrum press conference
Charlie Good, owner of Good & Quick store in Nevada, Iowa is one of over 1000 station owners around the country who did not have to re-label pumps over the weekend this year.
In this interview, Good talks about what being able to sell 15% ethanol in the summer months means for him and how he has been able to help get it done by telling his story to lawmakers, including President Trump himself.
Interview with Iowa fuel retailer Charlie Good