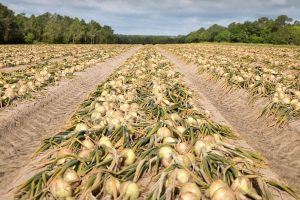 For foodies everywhere this is good news. I like all kinds of onions and have always loved Vidalia onions. I cook with them whenever I can. Over the course of a year I use a lot of red, white and yellow onions. But in season, I always select Vidalias.

Get ready to celebrate "The Sweet Life," Vidalia onion fans! The 2019 Vidalia Onion season has officially begun for the renowned vegetable adored by the world's best chefs and home cooks alike for its sweet and crisp flavor.
A rite of passage every spring, the sweet juicy bulbs are cultivated by 50 registered growers and are available for a limited time each year from April to August. One of the world's mildest onions, the way Vidalia onions are grown and raised enhances the onion's unique taste, sweetness and texture.
"We have had a strong harvest this year and consumers can look forward to a bountiful supply of Vidalia onions to spice up their favorite dishes from salads to desserts," said Troy Bland, chairman of the Vidalia Onion Committee (VOC), which oversees marketing for the hand-planted and hand-harvested vegetable.
According to Bland, 9,356 acres of Vidalia onions will be harvested this year. Vidalia onions comprise 62 percent of sweet onion sales in the United States and 22 percent of total onion sales.
This year, the VOC is launching a new marketing campaign, "The Sweet Life," to highlight the unique role Vidalia onions play as a tasteful addition to a dish that help consumers elevate their cooking and entertaining style to make life sweeter and more enjoyable.