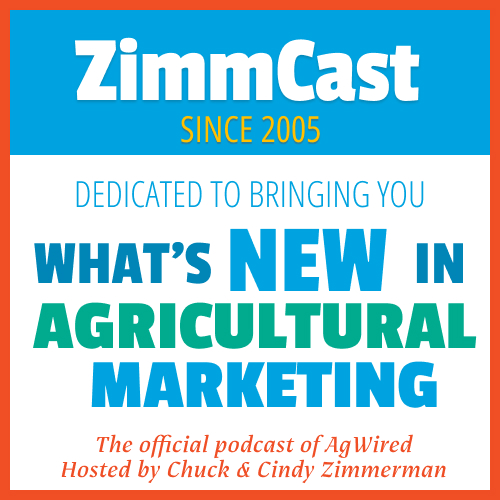 This week's program features interviews that Cindy and I did during the 2019 Agri-Marketing Conference in Kansas City. The Golden ZimmComm Microphone got a workout!
At the beginning of this episode you can hear from Sheri Seger, DTN/The Progressive Farmer, outgoing NAMA President and Scott McClure, Brighton, incoming NAMA President. After that I'm sharing all of the other interviews we did in our Connection Point booth, which can also be found on the AgNewsWire page for the Conference.
The interviewees include:
Richard Bettison, Beck Ag
Peggy Findlay, Commodity Classic
Kevin Lind, Cornstalk LLC
Marilyn Cummins, Cummins Consulting
Craig Dick, Cropstream
Sam Romain, Dominate with SEO
Gardner Hatch, Woodruff
Janet Adkison, RFD-TV
Greg Lammert, Rhea and Kaiser
John Rozum, AEM
Sally Behringer, New Leaf Marcom
Tom Slunecka, MN Soybeans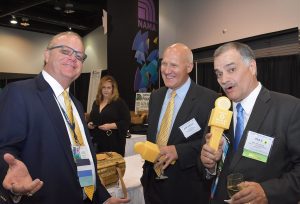 We offered free Golden Mic Interviews to whoever stopped by and had quite a few take us up on the offer. You may know some of them and if not, you'll get to meet them now. And, yes, we were giving away foam Gold Mics!
The winner of our booth drawing for a flex bluetooth keyboard from Zagg was Hanna Plants, Two Rivers Marketing. The winner in the NAMA Foundation Silent Auction for the Beats Pill+ custom colored by Colorware was Brittany Hanson, Bayer CropScience. We thank her for supporting the Foundation.
I hope you enjoy it and thank you for listening.
Listen to the ZimmCast here: ZimmCast - Golden Mic Interviews From #NAMA19