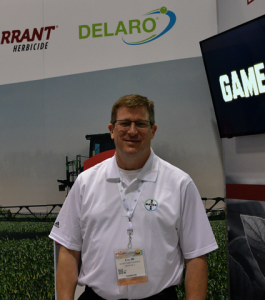 Numbers from the 2018 harvest show strong evidence that Bayer's Delaro fungicide delivered yield boosts for growers.
"We're very, very excited about Delaro. In today's marketplace, yield is more important than ever with the commodity prices that we have," said Eric Ifft, Bayer Customer Business Advisor in Central Illinois. "And now, with our Bayer seed brands, we have great yielding germplasm. To help our growers make the most of that germplasm, stay away from fungal diseases, and take away stress relief, Delaro is a fantastic product."
Ifft said the company did a number of trials in Illinois and across the Midwest last year, which showed a 16-bushel yield advantage in corn and a six-bushel yield advantage in soybeans versus untreated fields. Ifft said growers attending the Commodity Classic in Orlando showed a tremendous amount of interest in Bayer products, from Climate FieldView to crop protection to seed treatments.
Listen to Chuck's interview with Eric here: Interview with Eric Ifft, Bayer Delaro