John Deere has added to its lineup of Frontier equipment for property owners and small-acreage producers.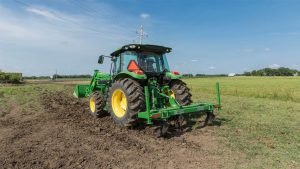 The new implements include cultipackers, three-point shank rippers and overseeders, which are commonly used by large-property owners and producers who need smaller-sized equipment to work behind compact, and utility tractors and in small fields.
Where seed has been broadcast, Frontier Cultipackers break up clods and firm the soil around the seeds, Frontier 3-point Shank Rippers can fracture hardpan as deep as 18 inches (45.72 cm) to aid in root penetration and decrease water runoff, and Frontier Ground-Driven Overseeders can be equipped with three seed-box options fitted with fluted seed cups and an agitator for accurate, uniform delivery of turf grass seeds. Click here for details.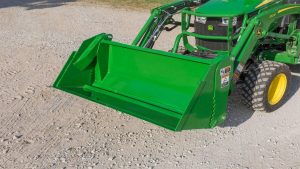 Deere has also added two loader attachments and two rear implements to its Frontier equipment lineup to meet the land maintenance needs of large property owners who use John Deere Compact Utility Tractors.
The lightweight Frontier AY11F 4-in-1 Bucket can be used as a grapple, scraper or dozer; the AV20F Root Grapple equipped with upper and lower grapple tines for debris cleanup, brush removal or moving large logs or rocks; and the Frontier LP1048L and LP1060L Land Planes are built to handle a wide range of property-maintenance duties around the farm or small acreage.