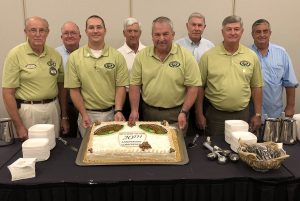 Cindy and I are peanut grower blogging from the Sandestin Resort in Miramar Beach, FL where peanut farmers from Alabama, Florida, Georgia and Mississippi have gathered for the 20th annual Southern Peanut Growers Conference.
Of course we're taking photos, doing interviews and posting content onto the Southern Peanut Growers Conference Blog. While families were rolling in yesterday to register I got some great cute baby photos.
Besides this beautiful cake, commemorating the 20th anniversary of the conference, attendees got to sit down and relax with some peanut butter gelato and selection of toppings. Of course, Tyron Spearman was grilling PBJ sandwiches. You can see the cake being cut in the video below.
As always, we started the conference by interviewing each of the state executive directors about current issues, including the farm bill, trade and the state of this year's crop. Listen to or download those below:
SPGC18 Interview with Caleb Bristow, Alabama
SPGC18 Interview with Ken Barton, Florida
SPGC18 Interview with Don Koehler, Georgia
SPGC18 Interview with Malcolm Broome, Mississippi
Check out the photo album, which will continue to be updated through the conclusion of the conference on Saturday.
2018 Southern Peanut Growers Conference Photo Album