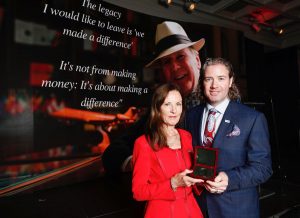 Alltech founder, the late Dr. Pearse Lyons was honored on the 4th of July with the Kennedy-Lemass Medal by the American Chamber of Commerce Ireland. The award honors U.S. leaders of Irish heritage who have helped to strengthen the Irish-U.S. relationship. Pictured with the award here are Dr. Lyons' wife Deirdre and son Mark.
Chamber president Barry O'Sullivan described Dr. Lyons, who passed away in early March of this year, as someone who "truly lived the American Dream," who "had the courage and skills to turn a vision into a reality."
In the late 1970s Dundalk-born Dr. Lyons emigrated to the United States, where in his Kentucky garage, he established Alltech with an initial investment of $10,000. Focused on improving animal, crop and human health and performance, Alltech today has a global team of more than 6,000 people. In Ireland, Alltech has its European Bioscience Centre in Dunboyne, Co. Meath, the Pearse Lyons Distillery in the Liberties, Co. Dublin and Stations Works Brewery in Dr. Lyons' hometown of Dundalk, Co. Louth.
"My father was passionate about Ireland and the United States and spent his life promoting both countries around the world," said Dr. Mark Lyons, president of Alltech. "He had an extraordinary ability to bring people from all walks of life together to make a difference in the world, this was especially true when it came to cultivating and supporting scientific, ag tech and agricultural endeavours between the U.S. and Ireland."
During his lifetime Dr. Lyons was awarded many honours, including the Ireland-U.S. Council Award for Outstanding Achievement and the 2017 St. Patrick's Day Science Medal in recognition of the creation of a global business based on scientific research. Dr. Lyons also received the RDS Gold Medal Award for Enterprise for his contribution to Irish business.
"Pearse was passionate about his heritage and making a difference in the world," ," said Mrs. Deirdre Lyons, Alltech co-founder and head of corporate design. He used his boundless philanthropic spirit to inspire those around him. For Pearse and me, making a difference in the world by empowering others has been an everyday reality of our personal and professional lives."