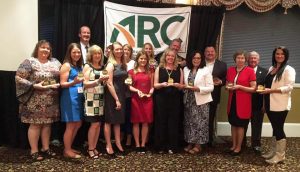 Find out who won 2018 Golden ARC Awards at the annual meeting this week.
Winners of the Agricultural Relations Council (ARC) 2018 Golden ARC Awards Contest were announced June 21 at the organization's annual professional development meeting in Louisville, Kentucky. Recipients of this year's Golden ARC Awards join an elite group of highly-respected leaders in agricultural public relations in the elite awards program.
For the seventh straight year the Golden ARC de Excellence Award was awarded. The 2018 winner was National Cattlemen's Beef Association (NCBA) for the campaign titled "'Beef. It's What's for Dinner.' Rebranding campaign." This year's selected entry was from the Campaigns Division, Organization or Corporate Reputation category. NCBA credits Meghan Pusey, Martin Roth, Season Solorio, Alisa Harrison for their work on the campaign.
This year's competition was judged by members of the Maine Public Relations Association.
Originated in 1990, the Golden ARC Awards Contest recognizes the best and brightest in agricultural public relations, and is open to both ARC and non-ARC members. The categories reflect the broad scope of contemporary public relations activities.
A complete winners' listing of the 2018 Golden ARC Awards Contest is here.