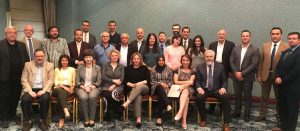 The image shows participants in the IFAJ Middle East Forum, hosted by the Turkey Guild of Agricultural Journalists and the Food Safety Congress at the Grand Cevahir Hotel in Istanbul on May 2, 2018. This forum is a serious attempt to create a new agricultural journalists network in a region sorely in need of an entity that promotes independent agricultural communications that are not controlled by political interests. Here are some excerpts from the summary of the Forum on the IFAJ website.

Thirty representatives from Middle East countries joined IFAJ leaders earlier this month for at historic three-day meeting in bustling Istanbul, Turkey, to create an IFAJ Middle East agricultural journalists' network.
The Turkish Guild of Agricultural Journalists and the 6th Food Safety Congress hosted representatives from Jordan, Iran, Iraq, Israel, Tunisia, Georgia, Ukraine and Turkey.
Ultimately, they agreed IFAJ should consider creating an online agricultural journalism certificate – as envisioned, containing equal parts of agriculture education and journalism training — that could be accessed by any IFAJ member, including those in the Middle East.
Over the coming weeks, watch for further news about the forum and statements from participants. The IFAJ Global Office will be following up to maintain communications with participants and support efforts to formalize the Middle East network.