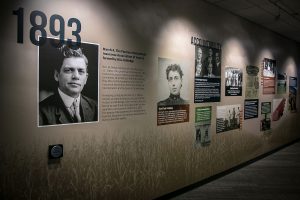 As a mutual company, Farmers Mutual Hail is owned by its farmer policyholders, and the company has been run by the same family for 125 years.
Seeing a need for mutual insurance against hail, W.A. Rutledge organized The Farmers Mutual Hail Insurance Association in 1893, and his great-grandson Ron Rutledge is CEO today, but many other company employees also go back generations.
"My father and grandfather were both presidents of the company and my great-great grandfather started the company," said Debbie Ladehoff, FMH Vice President of Human Resources. "The entire Rutledge family is very proud to be continuing the family legacy."
Ladehoff says there are a number of families that have been with FMH for generations. "The company was founded on the premise of farmers and neighbors coming together to support each other during the hard times," she said.
Farmers Mutual Hail 125th anniversary virtual newsroom
FMH Executive VP of Property and Casualty Patrick Faga says his family has also been part of the FMH family for generations. "FMH's 125th anniversary is also testament to the success and staying power of the American mutual insurance model that the Rutledge family embraced and adopted when they founded the company," said Faga.
FMH district sales manager Chock Hefner grew up with the company. "Both my dad and my grandfather worked for Farmers Mutual Hail, so I'm the third generation in my family to be working with this company," Hefner said. "I grew up going out and adjusting wheat fields."
Listen to interviews with Ladehoff, Faga, and Hefner:
Interview with Debbie Ladehoff, Farmers Mutual Hail Interview with Patrick Faga, Farmers Mutual Hail EVP - Property and Casualty Interview with Chock Hefner, Farmers Mutual Hail sales manager