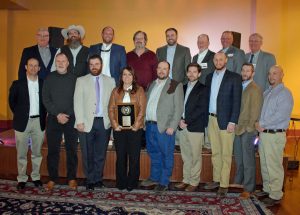 A former University of Missouri Extension cotton specialist was recognized last week during the Beltwide Cotton Conference as the 2018 Extension Cotton Specialist of the Year, an annual award sponsored by Bayer.
Andrea Jones, the first woman to be named Extension Cotton Specialist of the Year, technically was a research associate at the University of Missouri for most of her 18-year tenure and became the de facto cotton specialist for Missouri through hard work, dedication, and commitment to providing Missouri cotton producers with the latest information in an effort to increase their bottom line. In addition to leading variety trials and field days, Jones provided extensive research on irrigation and weed control. Jones left the University of Missouri in July and now works in a commercial role.
The prestigious award is voted on annually by Extension cotton specialists who represent every cotton-producing state across the U.S. Cotton Belt. Each year, the recipient's peers evaluate and select a winner based on a number of considerations including exceptional leadership and outstanding industry service. The Extension Cotton Specialist of the Year has been awarded since 1984 and sponsored by Bayer since 1998.