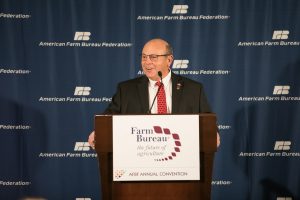 The second day of the American Farm Bureau Federation convention is when the spotlight is usually on the big name keynote speaker, the secretary of agriculture, and the big award winners at the meeting. This year, YF&R, Reba McIntyre and even Secretary Sonny are being upstaged by President Donald Trump, the first time that a president has addressed the AFBF convention since 1992.
AFBF president Zippy Duvall is more than pleased to have the president of the United States at the 99th annual convention in Nashville to address thousands of farmers in attendance and many thousands more through live streaming video from AFBF and on RFD-TV, which will also have a one-on-one interview with President Trump following his address. "We are so excited about having this opportunity … to have a seat at the table," said Duvall in his Sunday opening press conference. "That happens in a lot of administrations, it seems to be more open in this one."
In the press conference, Duvall also talked about what he will say during his time with President Trump today. AFBF president Zippy Duvall opening press conference
Watch President Trump live from AFBF starting at 3:00 pm central.
Find links to all AFBF convention content.