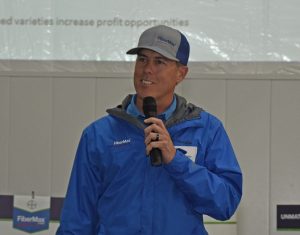 Two cotton varieties introduced in recent years are helping growers to fight diseases that are prevalent in the northern High Plains, according to Tim Culpepper, senior agronomist for Bayer Cropscience. Culpepper said FiberMax 1911 GLT provides a strong disease package, fighting verticillium wilt, bacterial blight and root knot nematode.
"These guys that are using this variety are seeing some really good control in these diseases. They're seeing some very good results in their higher input acre as well as in their limited acre. This year everything looks very good with this variety."
Culpepper said FiberMax 1888 GL, released in 2017, is another good option for growers as it is an easy to manage, high yielding and high fiber variety. Culpepper was at the 2017 Bayer Showcase Plot Tour in Lubbock, Texas.
Listen to Chuck's interview with Tim Culpepper here: Interview with Tim Culpepper, Bayer