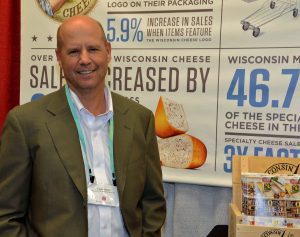 This year's World Dairy Expo was the first for Chad Vincent in his role as CEO of the Wisconsin Milk Marketing Board (WMMB). Vincent says the organization continues to invest checkoff dollars to drive trust, sales distribution and awareness of Wisconsin cheese and other dairy products.
He says exports and emerging markets are a priority, with a focus on Asia and North Africa. But the message to American consumers is just as important at a time when it can be difficult to tell fact from fiction.
"We want to tell the honest truth about farming and farmers and dairy. When people see it coming from the farmers and they hear the truth, it helps us deflect a lot of the misinformation that's coming at them today and coming at them in the future."
WMMB also shares that message with students in schools across the country through the Fuel Up To Play 60 program, in partnership with the NFL.
Listen to Jamie's interview with Chad Vincent here: Interview with Chad Vincent, WMMB