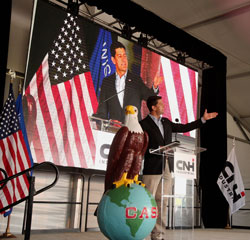 CNH Industrial celebrated the 175th anniversary of Case IH Agriculture and CASE Construction Equipment with an event this week at the Racine Tractor Plant attended by some 800 employees as well as elected officials and members of the Case founding family.
Case was founded in 1842 in nearby Rochester, Wis. as the Racine Threshing Machine Works Company. It evolved into one of the world's leading producers of agricultural and construction equipment. Speakers at the event included U.S. Speaker of the House Paul Ryan, the congressman representing Wisconsin's 1st congressional district; Richard Tobin, Chief Executive Officer of CNH Industrial; and Kaleb Jerome Case, the great grandson of Company founder and the Association of Equipment Manufacturers' Hall of Fame member Jerome Increase (J.I.) Case.
"Your reputation as the highest-class producer of the greatest machines that the construction industry and the agriculture industry know – thank you for making us proud and congratulations on this fantastic legacy of 175 years," said Speaker Ryan.