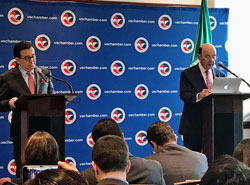 U.S. Secretary of Commerce Wilbur Ross and Mexican Secretary of Economy Ildefonso Guajardo announced a new agreement this week to suspend antidumping and countervailing duties against Mexican sugar imports into the United States.
"We have gotten the Mexican side to agree to nearly every request made by U.S. industry to address flaws in the current system and ensure fair treatment of American sugar growers and refiners," said Secretary Ross.
According to Agriculture Secretary Sonny Perdue, the agreement reduces the percentage of Mexican refined sugar that may be imported into the United States, lowers the polarity dividing line between refined and raw sugar, and requires that raw Mexican sugar be shipped flowing freely in the holds of ocean-going vessels, rather than being shipped in packages or by land. "Finally, it is of great importance that USDA will have the flexibility to protect the U.S. sugar industry by making polarity adjustments in the event of extraordinary or unforeseen circumstances," said Perdue. "The agreement prevented potentially significant and retaliatory actions by the Mexican sugar industry and sets an important tone of good faith leading up to the renegotiation of the North American Free Trade Agreement."
Corn Refiners Association President and CEO John Bode praised the agreement. "In this Administration's first major negotiation with Mexico, Secretary Ross succeeded in protecting against unfair trade practices and maintained vulnerable export markets," said Bode. "Thanks to his leadership, U.S. sugar interests have much stronger protections than the previous Suspension Agreements without threatening the $500 million in U.S. corn sweetener exports to Mexico that support 4,000 U.S. jobs."
The American Sugar Alliance (ASA) is also pleased with the agreement, but concerned about a loophole they say "takes away the existing power of the U.S. government to determine the type and polarity of any additional sugar that needs to be imported and cedes that power to the Mexican government."
"We will work with Secretary Ross in the coming days to see if that loophole can be effectively closed so that the basic provisions of the agreement are not undermined and USDA can effectively manage the sugar program," said ASA spokesman Phillip Hayes.