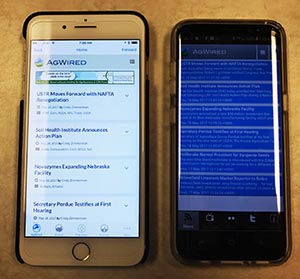 My morning inspiration today comes from a post on the Woodruff blog by Darlene Hanenburg, Senior Technical and Content Writer. Darlene writes about farmers consumption of digital media and makes some very good points. Here is an insightful excerpt.

The truth is, the agri-marketing landscape continues to evolve as new media and technology are introduced and become more widely accepted. Today we have more options than ever to effectively engage farmers and ranchers, and they have more options for getting the information they need to help run and manage their operations. What's more, the newest generation returning to the farm is extremely comfortable with digital technology. That makes understanding how, when and why farmers and ranchers use various digital media channels essential for agri-marketers wanting to deliver the right content at the right time to the right person using the right channel.

I remember writing back in 2005 about DTN going mobile.

While people in some of the traditional media are still trying to hold on to the good old days DTN is working hard to transition to the future. I haven't seen them publish a farmer media usage study and yet they're moving forward. I used to work there so I know it's not any easier for them to change than anyone else. They were the cutting edge of information delivery with the satellite-delivered weather, market and news data. But people need to be mobile. That was always one problem with the "old system." You had to be there in front of the monitor to get it. Now you don't!

Do you remember the DTN monitors? I'm sure they are actually still in use although I haven't seen one in years. But the reality of today is that smart phones, tablets, small fast laptops, ubiquitous internet and now connected cars are being used by farmers who are really no different than the general population when it comes to where they get their information.
In the photo you can see our AgWired App on my iPhone 7 Plus and Samsung S8. We introduced the first ag news app back in 2010 and it is going strong, although I need a new developer to do some work for me on it. Know anyone?
Since I started this AgWired blog I have always preached that this "new media" is not replacing more traditional ag media like magazines, farm radio, tv. In Darlene's post you'll find some good statistics and she makes this very point. If you really want to connect with your farmer audience, a mix of media that includes digital (mobile, blogs, social media) is vital in today's world.
One thing I have to add to this is the status of actually knowing that farmers are consuming your digital media. In my farm radio days we had listener studies. I got a doctorate in the strategy and how to interpret those studies. They are necessary but only give you some proof that farmers are listening. It's kind of like magazines that you sign a card with demographic data. They get the publication but did they read it? Did they see your ad? How do you know? Digital media is kind of like that except that you have things like views, impressions, downloads. But even so, when you are evaluating a media channel like AgWired how do you factor in the website traffic, RSS subscribers, App users, social media channel followers, etc? I have yet to see a service that truly pulls all that diverse data together into a dashboard that provides you with the big picture. I can pull all those statistics and I do and I report them. But our goal since day one has been to make our digital content available to anyone who wants it without barriers so they can consume it whenever, wherever and however they want. I think that has been a key to the success of this huge digital audience we have developed over 13 years!
I wish I knew what the next ten years will hold but who knows what the ag media landscape will look like even a year from now? I promise that ZimmComm will keep evaluating, using and recommending what we think are the best choices for our sponsors and customers.
I have to add since you can see my mobile devices that farmers are really, really smart. That's why there is a SMART Farmer Podcast.
Thank you Darlene for the morning inspiration!