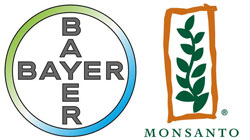 Bayer announced this week that the company received conditional approval of its proposed acquisition of Monsanto in South Africa, conditions that include the "divestiture of Bayer's global Liberty Link trait technology and the associated Liberty branded agro-chemicals business."
Bayer has agreed to these conditions and is evaluating how best to execute the imposed divestiture. As previously communicated, Bayer has been anticipating that regulatory authorities could require certain divestitures. Bayer will continue working with regulators globally with a view to receiving approval of the proposed transaction by the end of 2017.
The Liberty Link technology competes directly with Monsanto's Roundup Ready and was developed to address weeds that have become resistant to the Roundup herbicide glyphosate.
At the recent Bayer AG annual stockholder's meeting, CEO Werner Bauman said the company is making good progress in seeking regulatory approval for the transaction and has already submitted applications for clearance to almost all of around 30 authorities. "As our businesses are highly complementary in terms of both products and geographical focus, and there are only a small number of overlaps, we remain confident that we will be granted all the necessary clearances," Baumann said. Overall, Bayer remains confident of closing the transaction before the end of 2017.