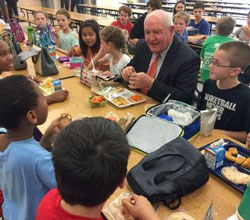 Secretary of Agriculture Sonny Perdue started out his second week on the job by going back to school and eating lunch.
Perdue visited Catoctin Elementary School in Leesburg, Virginia to announce that USDA will provide greater flexibility in nutrition requirements for school meal programs in order to make food choices both healthful and appealing to students, beginning the process of restoring local control of guidelines on whole grains, sodium, and milk.
"A perfect example is in the south, where the schools want to serve grits," said Perdue. "But the whole grain variety has little black flakes in it, and the kids won't eat it. The school is compliant with the whole grain requirements, but no one is eating the grits. That doesn't make any sense."
"I've got 14 grandchildren, and there is no way that I would propose something if I didn't think it was good, healthful, and the right thing to do," Perdue said. "And here's the thing about local control: it means that this new flexibility will give schools and states the option of doing what we're laying out here today. These are not mandates on schools."
Today, Secretary Sonny will be meeting with members of the National Association of Farm Broadcasting in Washington this week for their annual Washington Watch.