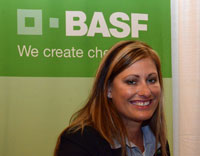 In-furrow fungicides offer many benefits, from improved root growth and seedling vigor to improved cold tolerance and higher yields. Technical Marketing Manager Dr. Caren Schmidt discussed new and upcoming improvements to BASF's in-furrow fungicide portfolio during the National Association of Farm Broadcasting (NAFB) annual meeting this week in KC.
"Losing yield potential at planting can never be made up for later in the season, so an in-furrow product can really help get the product out of the ground quicker and more uniformly, setting it up for a higher yield potential," said Dr. Schmidt.
BASF and FMC recently announced a partnership to develop several new in-furrow products that integrate the technologies used in FMC's unique, market-leading LFR insecticides and BASF's gold standard fungicide portfolio. BASF will launch Manticor LFR In-Furrow Fungicide/Insecticide in the Spring of 2017, and Dr. Schmidt believes that this collaboration of proven technologies will allow growers to maximize both planting efficiency and seedling health.
"We're always looking for ways to bring the best solutions to growers, and partnering with FMC was a great way to combine our core competencies and create solutions that provide growers maximum protection in the furrow," said Dr. Schmidt.
Listen to Cindy's full interview with Caren here:
Interview with Dr. Caren Schmidt, BASF
View and download photos from the event here: NAFB Convention Photo Album
Coverage of NAFB Convention is sponsored by