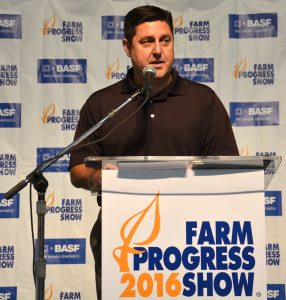 Pressure continues on farmland values in Illinois according to research released during the 2016 Farm Progress Show. Prices have been reduced on average between an estimated 3.3 percent and 7 percent with projected low net returns and softening commodity prices cited as the primary cause of the decrease in value. The results of the Mid-Year "Snapshot Survey" was provided by David Klein, with Soy Capital Services, and conducted on behalf of the Illinois Society of Professional Farm Managers and Rural Appraisers and the Illinois Farm and Land Chapter of the REALTORS Land Institute.
Klein said per the survey below $4 per bushel prices paid for corn are expected to continue into 2017 with some decreases in production costs expected. In addition, cash rents are expected to drop about $20 per acre.
Survey respondents indicated that for the first half of 2016:
Land values decreased 3.3 percent for excellent-quality farmland and estimated prices paid for an acre averaged $11,100.
Land values decreased 4.5 percent for good-quality land with an average sale price of $9,400 per acre.
Land values decreased 5.6 percent for average-quality land with an average price per acre at $7,600.
Land values decreased 7 percent for fair-quality land at an average sale of $5,800 per acre.
Respondents also indicated that they expect the decrease in land values to continue throughout the remainder of 2016.
To learn more about the Land Values Survey, listen to the press conference here: Land Values Press Conference