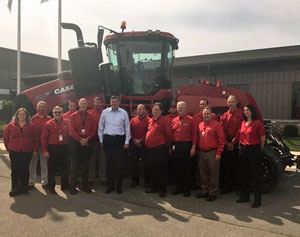 CNH Industrial's Goodfield, Illinois facility welcomed Rep. Darin LaHood (R-IL) for a visit this week.
The congressman took part in a roundtable discussion Tuesday with employees and took a tour of the facility, seeing firsthand what goes into making agricultural implements such as disk harrows and crumblers that are used for soil management operations such as field tillage and cultivation. "Agriculture has been a priority for me since taking office so it means a great deal to be able to visit sites such as Goodfield to learn how my office can do more to promote the continued growth of this sector right here at home," said LaHood.
The Goodfield facility was first established in 1960 and was acquired by CNH Industrial in 1998. It is one of the primary manufacturing sites producing crop production equipment under the Case IH brand and also operates a dedicated Research & Development center at this site. Congressman LaHood represents the 18th district of Illinois, which includes Goodfield.