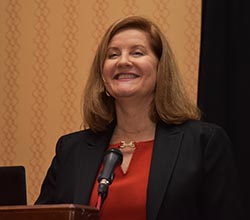 The 13th International Conference on Precision Agriculture (ICPA) conducted by the International Society of Precision Agriculture (ISPA) is underway in St. Louis, MO. This year it is overlapping the InfoAg Conference which I believe is the 14th one. ICPA starts first with a plenary session that features an update on ISPA, a look ahead to other precision ag conferences and a keynote speaker.
Dr. Margaret Zeigler, Executive Director, Global Harvest Initiative, spoke on the topic of "Building Sustainable Breadbaskets, Fostering Inclusive Growth." In her presentation she includes a lot of statistics regarding hunger around the world and makes suggestions for what can be done to alleviate it in light of challenges from the environment and public policy. I thought you might enjoy her message.
You can listen to Dr. Zeigler's speech here: Dr. Margaret Zeigler, Global Harvest Initiative
I will be here for the ICPA and InfoAg until Wednesday morning but I am tag teaming with our Kelly Marshall who will complete our coverage until the end of the joint conferences on Thursday. Most of our coverage can be found on our Precision Ag News website – Precision.AgWired.com.
I've just started a photo album for your viewing and sharing pleasure – 2016 ICPA/InfoAg Photo Album