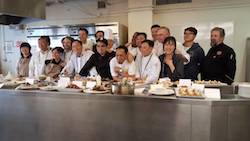 Potatoes USA brought 21 chefs from Mexico, the Dominican Republic, El Salvador, Japan, Korea, China, Taiwan, Hong Kong, Malaysia, Vietnam and the Philippines on a reverse trade mission (RTM) to the U.S. to learn about U.S. potatoes and products, as well as new and creative ways to put them on menus back home.
The RTM began with potato training in Idaho, then switched to a two-day training session at Le Cordon Bleu Culinary Institute in Portland, OR. The final segment of the trip was the National Restaurant Association annual conference and trade show in Chicago.
The Idaho portion of the trip first brought the international chefs to a fresh packing shed and dehydrated potato processing facility in Idaho Falls. The group received intensive training on dehydrated potatoes at Miles Willard Technologies, and allowed to directly observe the scale, sophistication and quality of U.S. potatoes and products. The next stop was Boise, where chefs met with Lamb Weston, the Idaho Potato Commission and the J.R. Simplot Company.
The Oregon Potato Commission sponsored the group's two-day cooking workshop at the Le Cordon Bleu Culinary Institute. The workshop included cutting edge culinary demonstrations with dehydrated, frozen and fresh potatoes, two opportunities to prepare dishes with U.S. potatoes and products, and training by a lead instructor on classical potato preparations and dishes.
The group then traveled to Chicago for the National Restaurant Association annual conference, which offered the chefs an extra opportunity to learn about U.S. food products, including potatoes, which they can feature in their restaurants plus all of the other aspects of the restaurant business.
All of the chefs expressed sincere gratitude to participate in this "experience of a lifetime," and all participants felt that their views and thoughts about potatoes had completely changed. There was complete consensus that their experiences in the U.S. could be applied in their own restaurants.