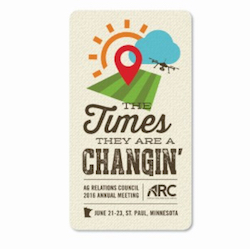 Registrations are rolling in for the 2016 Ag Relations Council (ARC) Annual Meeting, June 21-23, 2016, in St. Paul, Minnesota. The meeting will be held at the Intercontinental Hotel on the St. Paul riverfront. As always, professional development, tours, the Golden ARC Awards and networking will be on tap!
The exciting meeting agenda can be found here. Be sure to keep an eye on the ARC website for all the latest and greatest meeting updates.
Attendees can register online here
Hotel Reservations can be made online here or by calling 800-628-2112 and identifying yourself as being a part of the Agricultural Relations Council group.
Attendees are encouraged to contact the ARC staff with any questions.