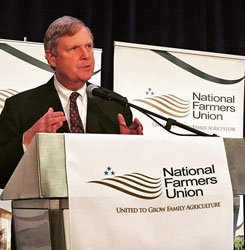 National Farmers Union (NFU) member, Agriculture Secretary Tom Vilsack, addressed the 114th Anniversary Convention this week.  He spoke about the uniqueness of American agriculture, asked Congress to act on the food labeling bill and encouraged increased trade with Cuba.
"It is important to focus, not just solely on large-scale production agriculture, but it is important to continue to focus on diversifying opportunities for all sizes of operations," he said, receiving thunderous applause from NFU's diverse membership.
With falling commodity prices Vilsack believes in the investments that have been made by the USDA to fortify rural America for occasions just like this.  Investments include renewable fuels initiatives, new and beginning farers education programs, crop insurance, rural development grants and conservation programs.
His address also included a call to Congress to pass the food labeling bill.  Vilsack explained the chaos of a state-by-state labeling environment.  The confusion over genetically modified crops could lead to higher food prices, and also access issues.  "Congress needs to address this, and they need to address it now," he told the NFU.
The secretary encouraged the use of a "smart label" to give transparency to consumers while avoiding giving the wrong idea about food safety.  "If Congress is unwilling to make these tough decisions…then delegate the responsibility to the Department of Agriculture," Vilsack said. "We'll be happy to make the tough decision."
Another tough issue Vilasck says Congress needs to address is the Cuba trade embargo. The U.S. should "absolutely own that market," was his quote.
Vilsack's message was well received by the National Farmers Union.  His priorities echo the organization's, says President Roger Johnson.