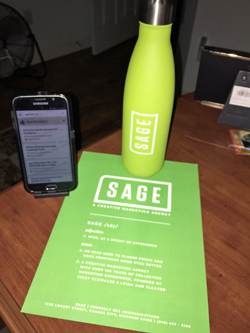 Those Sage people in Kansas City, MO sent a very S'well gift this Christmas. The creative marketing agency led by Leigh Ann Cleaver and Kelly Schwalbe wants us to stay hydrated. Although I missed their coming out party a few weeks ago I have had need of hydration after attending them in the past!
ICYMI. Sage, formerly BCS Communications, defines itself as "A creative marketing agency with over 120 years of collective marketing experience."
They wanted us to know that they are grateful for our business, support and friendship. Well, we can say the same about Sage and so many others in the world of agribusiness.
The ZimmComm Team is hoping you're having a wonderful Christmas and will have a very happy New Year.