Land O'Lakes awarded 10 U.S. college sophomores fellowships to help find ways to end world hunger. The Global Food Challenge Emerging Leaders for Food Security Program is designed to engage future leaders in the challenges and opportunities facing agriculture in the coming decades. The 2015 fellowship recipients were announced during the 2015 World Food Prize Borlaug Dialogue.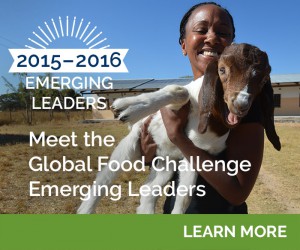 The 2015-2016 Emerging Leaders for Food Security fellows are: Elizabeth Alonzi (Bloomington, Minn.), Katie Enzenauer (Brooklyn Park, Minn.), Blake Schweiner (Green Bay, Wis.), attending the University of Minnesota; Abby Adair (Crown Point, Ind.), Sydney Gray (West Lafayette, Ind.), attending Purdue University; Addison Bidwell (Grinnell, Iowa), Leah Ellensohn (Le Mars, Iowa), Megan Schnell (Charlottesville, Va.), attending Iowa State University; Diana Fu (Pleasanton, Calif.), attending Northwestern University and Ayse Muratoglu (Chicago, Ill.), attending The George Washington University.
"This experience is life-changing," said Mandi Egeland, a 2014 alumna of the program and a business student from the University of Minnesota's Carlson School of Management. Another 2014 alum, Trey Forsyth from Iowa State University, said, "We need people from different professional backgrounds, countries and viewpoints to make a difference in feeding the world."
Because a broad mix of skills is needed to find new ways of feeding the growing population, students are selected through a competitive application process that includes wide-ranging education disciplines from agronomy and environmental science to nutrition, finance and marketing.
Chris Policinski, president and CEO, Land O'Lakes said of the program, "Ag is the greatest growth industry of our era and represents the most dynamic career opportunity for this generation."